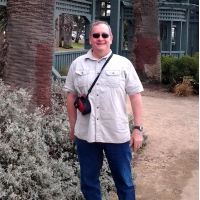 Eldon Kellogg
Thrillers, Science Fiction, Fantasy
I was born in Durham, North Carolina on November 8, 1951. I attended NC State University from 1969 to 1972, majoring in mechanical engineering. Two problems: first, the drinking age back then was 18; second, I majored in engineering because all my friends majored in engineering (I found out the hard way that calculus and I didn't get along).
My mother's comment was, "I don't know what you're going to do, but you're not living here." So I enlisted in the US Army in 1972, during the Vietnam War, and found myself in the Infantry. I was lucky. I was never sent to Vietnam. After two years, I applied for the Army's Nuclear Power Plant Operator's School, graduated in 1975 with a specialty in Radiation Protection, and spent the next year teaching math at the school (God does have a sense of humor). After spending three years in Honolulu, working at the Tripler Army Medical Center, I left the army in November 1979 with a wife, a two year old son, and no job.
I started working at Three Mile Island Unit 2 in February 1980, 11 months after the accident (that's a complete separate novel). That started a career in nuclear power that lasted until 2012. I have written lesson plans, procedures and presentations galore (not exactly creative writing). Creative writing is different. You have to imagine a scene, place yourself inside it, and then describe what you are seeing in words (hopefully interesting words). I'm also a woodworker, a glazier and a sculptor. I have had work displayed in the Smithsonian in Washington, DC.
Rainy days should be spent at home with a cup of tea and a good book.
Bill Patterson